Relocate Your Home To Princeton Village MHC in Princeton, Texas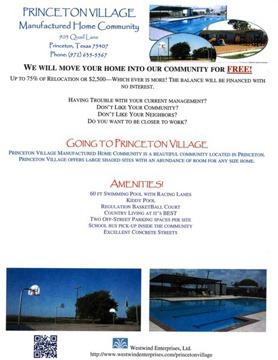 Price: $2,500
Seller:
Type: Houses for sale
Princeton Village Manufactured Home Community is a beautiful Community located in Princeton. We are 8 miles west of McKinney and 8 miles east of Farmersville. Princeton Village offers large shaded sites with an abundance of room for any size home. Our Community Features, 60 ft. swimming pool, Regulated basketball court, Community playground, off street parking, school bus pickup inside the Community and excellent concrete streets, and free standard cable. We also offer quality new and pre-owned homes for sale in all our communities with easy financing and a low down payment. Our new Clayton homes have many extras including washer and dryer hookup, dishwasher, steel front door, glamorous bathroom, ceiling fans, thermal double pane windows, large front and rear decks, air-conditioning, deck and home are fully skirted, beautiful landscaping and a one year warranty. So move your Manufactured home to Princeton Village and we will pay up to $2500 or 75% which ever is greater. The balance will be financed with no interest! Call today 972-635-5567 or stop by and visit us at 903 Quail Lane Princeton TX 75407.

Price: $1
Time: 10:52 p.m. EST
Date: 16 Jul

Price: $145,000
Time: 12:49 a.m. EST
Date: 08 Feb

Jersey Village, TX 77040
2242 sq feet of versatility on large 13600 foot lot with lots of shade trees- house has never flooded- large rooms...
Price: $150,000
Time: 08:27 a.m. EST
Date: 09 Jan

Price: $184,900
Time: 07:53 a.m. EST
Date: 09 Jan